In addition to holiday pages, ANDiDREW created TORAH COMICS and COLORING PAGES! you can check them out and sign up at www.ANDiDREW.com/comics.
Andrew teaches cartooning classes, including the PARSHA COMIC WORKSHOP. Recordings of classes are available for purchase at www.ANDiDREW.com/classes.
Post a colored in Shavuot Search and tag @TorahComics to get a free drawing class recording of your choice!
Instagram: @AND_i_DREW or @ParshaComics Facebook: AndrewGalitzer
I can't wait to see your colored in Shavuot Search!
ANSWERS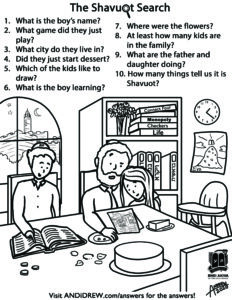 Avi. His name is on his kippah.

Connect 4. It is half-open and top on the stack of games and there are 3 pieces on the table.

Jerusalem. The old city walls and the Tower of David are seen in the window. What a view!

 No. The cake is full and there is another piece and crumbs on the table: This should be their second cake and It is really late at night so they must have started dessert a while ago.

Eva. Her name is on the drawing of Har Sinai.

Shemot. The set of the mikraot gedolot on the bookshelf is missing it.

On the table. There is a circle of water and some petals there.

Three. There are two kids in the picture and there is a high chair, so there must be a baby too.

This! If you look closely, they are actually t

rying to solve this puzzle!

6! They are eating cheesecake, so they must have had dairy. It is night outside and the clock shows it is 1:23, so they must be learning all night. The moon is a quarter full, just like it always is on Shavuot since it is a little after Rosh Chodesh. They have flowers. Eva drew Har Sinai. They are doing this Shavuot search.
SHAVUOT DRAWING CLASS [RECORDING]
Did you know that all drawing class recordings are on sale? Click here to visit the ANDiDREW Recording library store