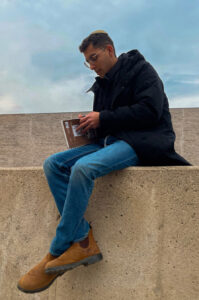 Andrew Galitzer is a 20-year-old artist and entrepreneur. After High School, he spent a year learning Torah in Israel at Yeshivat Eretz HaTzvi and now studies engineering at Drexel University.
For the past four years, he has created Torah comics for Schools and Synagogues across the globe and recently published them in a Torah Comic Book with Gefen publishers. 
Since February of 2020, when the pandemic closed almost all in-person activities, Andrew has been teaching Drawing Classes over Zoom. He taught for an online art-studio, online camps, shuls, and individuals. He now does in-person and online classes. For more information, visit andidrew.com/classes.
In addition to art and drawing, Andrew also enjoys surfing on Flow Riders and being involved in Jewish Education.
Featured on:
(Click on the icons to open the articles)
Super fun Parsha class!
Andrew gives a very fun and engaging Parsha class each week. My 10 year old son loves it! He actually learns so much while also having fun drawing and writing a comic! Thank you, Andrew!
Awesome classes!
My 8 year old loves these classes!
I'd been searching for an online art class for him and this is just perfect! He is learning so many new things and he enjoys every minute of it! I am so happy that he is gaining the skills and knowledge, and he is very proud of all he has learned so far.
Awesome classes!
Thanks Andrew for your highly interactive and fun classes! We always look forward to joining!
Submit a Review