Celebrate Purim with ANDiDREW!
FREE Purim Comic and Coloring Page    |   Comic Workshop    |    Drawing Class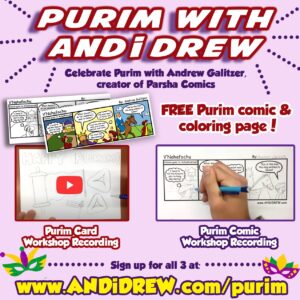 Purim Comic Workshop!
A recorded class for kids to make their very own comic strip! Participants will get exclusive printable comic boxes for this special class!
Cost: $10/Family

Purim Card Drawing Class [Recording]
Sign up to get the recording of this special Purim Card workshop!
Kids learn how to make their very own Purim Card to send to friends with their Mishoach Manot
 Watch the recording whenever you would like!
Special Skill: BUBBLE LETTERS!
---
Free Purim Comic and Coloring Page!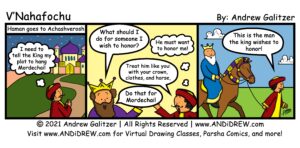 Type your email below to get this Purim comic strip and a coloring page version!
Share a colored in Purim comic to social media and tag Andrew to get a free recording of one of the above classes!
Instagram: @ParshaComics Facebook @AndrewGalitzer
---
SPECIAL GIFT: $10 off the Parsha Comic Workshop Series!
Use coupon code "PURIM" when you signup. Valid through the end of Purim.